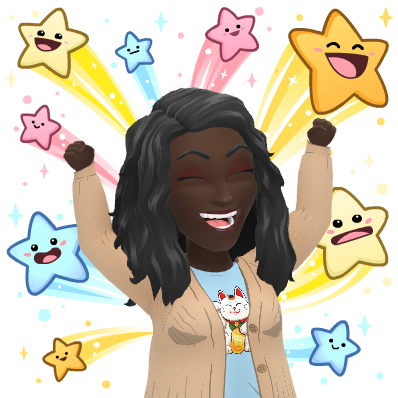 One of the craziest, most confusing parts of my life is probably my hair. From a very young age, I would sometimes dread the day that it was time to have something to my hair. I knew it was either going to be the pain of cornrows, the painfully long time duration of having individual braids done, the uncomfortable feeling of water getting all over my face on a wash day, or the burning of a relaxer. I'd sometimes look at my straight-haired friends in jealously and wish for the day that my regime consisted of simply brushing.
It really sucks that now, even as an adult, I have a hard time enjoying my hair care. I just want to enjoy my hair, for once, and not see it as a chore. These days, I finally seem to have figured out a way to care for my hair that has allowed me to retain length, but my anxiety has caused me to constantly worry about damage and setbacks. The advice that women give on YouTube is always unrealistic and makes me even more nervous about whether or not I'm doing the right thing, so I've had to prohibit myself from watching hair videos.
I think I want to start writing about my hair though and journaling about the progress I make. Not just progress towards my goal (which is to have all of my hair at BSL), but towards enjoying my hair. So, instead of following how another woman's journey is going, I can simply focus on my own. My hair journey is another aspect of my life that I'd like to be able to look back at in a few years and see how far I've come.
Currently, my hair is a little past APL, just about 1/2 inch from touching the top of my bra strap. I'd say that it's in a very healthy condition and I dust my ends every couple of months, as needed. I wash and deep condition every 1-2 weeks, usually 2. I only leave my deep conditioner on for about 30 minutes max and I rinse it off. On wash day, I blow dry and straighten my hair. When I'm done, I hardly have any noticeable shedding or breakage (like I can barely make a dime-sized ball out of the hair I collect in the shower and my hair brush). I don't ever air dry my hair because my hair is not straight and it is always very dry and rough when I air dry it, compared to how soft and smooth it is after a blow dry. Every other day, I apply and massage wild growth oil into my scalp and my ends. I also apply almond oil to my hair and edges every other day. My typical styles are down, up in a claw clip, two braids, or a braid out from the two braids. I'm currently considering wearing buns more often, just to see if it'll help any with length retention. I don't wear wigs or weaves, though I'd like to try a sew-in (but I'm not willing to pay the price). I hardly wear braids either, but I want to try to stretch to my next relaxer by wearing braids. I've been taking care of my hair this way since May of this year and I've gained 1.5 inches so far.
Cheers to the beginning of a happy, healthy hair journey!